Mental Health & Substance Use
Here are a few statistics from Saginaw County's Health Report Card worth noting. These were measured before the COVID-19 pandemic:
16% of Saginaw residents describe their mental health as "not good" for a period of more than 14 days when assessed
22% say they are depressed
22% report excessive drinking habits
These measures likely understate our community's behavioral health status since the COVID-19 pandemic. This deserves our attention because mental health plays a critical role in overall wellness. "Being well" requires prevention services for all, early identification and intervention for those at risk, integrated services, and available care and treatment for those who need them.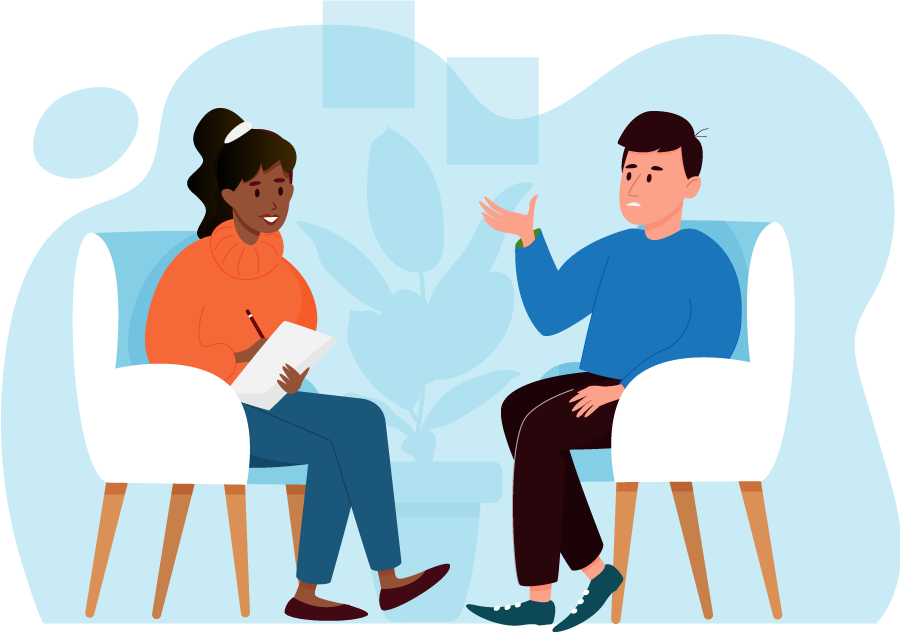 Recognize mental health & substance use issues as every bit as normal as physical health issues.
Normalize conversations about mental health & substance use.
Use, share, and engage with BWell Saginaw self-care tools and resources.
Tools and Resources
A great deal of work is being done locally to analyze and identify gaps in our county's mental health/substance use system to increase access to professional care for all. Meanwhile, here are some resources to help.
MiHIA Dashboard for Mental Health Providers in the Region
Saginaw County Community Mental Health Authority
Barb Smith Suicide Resource & Response Network
For Stress and Anxiety
For Happiness
Coronavirus-Related Help
General Mental Health – Free APPs To Download
What's UP?
Uses cognitive behavioral therapy (CBT) and acceptance commitment therapy (ACT) methods to help you cope with depression, anxiety, anger, stress
Best features

12 common negative thinking patterns and how to overcome them
10 metaphors to help cope with negative feelings
Comprehensive diary to keep thoughts and feelings together
Habit tracker, catastrophe scale, grounding game, breathing techniques, positive quotes, and much more!
Happify
Help overcome negative thoughts
Break old patterns, form new habits
Simple and effective solutions for mental health and well-being
Happify Plus version available for $14.99/month
Talkspace
Matched with a licensed therapist in your state
Partners with health plans and companies to try to make therapy more affordable
Sanvello: Anxiety & Depression
Meant to meet you where you're at
Includes therapy, coaching, coping techniques, meditations, and goal and mood tracking
Many of the resources and guides are free
CBT Thought Diary
Uses effective tools from cognitive behavioral therapy, acceptance and commitment therapy, and positive psychology to help improve mood
Place to reflect on thoughts, record mood, practice gratitude, and analyze thoughts with techniques
eMoods Bipolar Mood Tracker
Mood tracking and charting journal perfect for logging bipolar I, bipolar II, depression, anxiety, etc.
Helpful for tracking medication changes as well
Bearable
Symptom and mood tracker
Empowers to understand the correlation between what humans do and impact on physical and mental health
Learn what effects mood, symptoms, sleep, energy, etc.
PTSD Coach
Provides education about PTSD, information about professional care, a self-assessment for PTSC, opportunities to find support
Tools range from relaxation skills and positive self-talk to anger management and other self-help strategies
MindTools
Meant to transform working life and get ahead in careers
Skill-building resources focused on management, leadership, and personal excellence
Rise Up and Recover
For people struggling with food, dieting, exercise, and body image
Based off self-monitoring homework
Key features

Log meals, emotions, and behaviors
Set custom reminders to inspire to keep moving forward
Share motivational quotes, images, and affirmations
Lifesum: Healthy Eating
Personalized diets and meal plans, food and exercise tracking, calorie counter, and healthy recipes
Reach your health and weight goals through better eating
NOCD: Effective care for OCD
Offers live video-based therapy and in-between session support
Get matched with licensed OCD therapist
GG OCD-Anxiety & Depression
Designed to increase awareness of unhelpful thinking, train to identify and challenge unhelpful thoughts, increase access to helpful and positive thoughts, reduce anxiety and depression, provide daily mood and self-esteem boost
UCSF PRIME
Inspire young people with schizophrenia to improve their quality of life
Social networking with peers, goal setting, access to mental health motivational coaches
Ten Percent Happier
Sleep better, be more mindful, improve relationships
Guided meditations, videos, talks and sleep content
The Safe Place
Geared toward the Black Community
Bring more awareness, education, and hope to a serious issue
Key features

Black mental health statistics, inspirational Black quotes, self-care tips, mental health videos and podcast, mental health articles, open forum discussions
Worry Watch: Anxiety & Mood
Built on foundations of cognitive science
Key features

Guided anxiety journaling, coping techniques, mood check-in, positive reinforcements
General Mental Health – $$ APPs to Download
MoodKit
$4.99 to download app
Help improve your mood and become own expert
Thought checker, mood tracker, journal
Professional psychology tips and tools for everyday life
Best features

Over 200 mood improvement activities
Guidance to modify distressing thoughts
Custom journal templates and reminders
BetterHelp-Therapy
$60-$90/week, billed every 4 weeks, for unlimited text, video, audio messaging, as well as weekly live sessions
Over 20,000 licensed, accredited, and highly experienced therapists
Match with a therapist that best fits your needs, usually get matched in a few hours or a few days
MoodMission
$4.99 to download app
Describe how you're feeling and get a tailored list of missions to improve your wellbeing
Missions

Mental health strategies that are quick, easily achievable, and backed up by scientific evidence
Some are mindfulness mediations, exercise or fitness activities, affirmations, coping statements, yoga, gratitude, etc.
Sensa-Mental Coach
$14.99/month
Mood journal to build reflective habits
Self-management lessons
Regular activities to help maintain healthy habits
Tips, strategies, and other resources for self-education
InnerHour: Self-care therapy
$4.99/month
All-in-one self-help tool that provides digital therapy experience
Designed to help people with anxiety & depression
Sets small goals for self-care and adds reminders
Guided meditations
Moodfit
$9.99/month or $39.99/year
Reduce stress, build resilience increase motivation, reduce procrastination, feel more positive, be less reactive
Daily goals/self-care, mood journal, gratitude journal, mental health assessments, mindfulness meditation, breathing exercises, sleep & lifestyle therapy, medication, reminders, activity tracking, and summary reports
iMoodJournal-Mood Diary
$2.99 to download app
Ultimate journal, personal diary, and mood charting tool
Can track sleep, medication, symptoms, stress and anxiety, energy level, cycles, etc.
Editable scale to rate well-being, note keeping tools, mood records, automatic reminders, mood sharing with friends
Shine: Calm Anxiety & Stress
$14.99/month or $69.99/year
Mission is to make taking care of mental health easier, more representative, and more accessible
Space for daily self-care
Includes daily meditations, weekly courses, monthly virtual workshops, and unlimited access to meditations
APPs For Anxiety – Free To Download
Breathe2Relax
iPhone and android devices
Hands-on diaphragmatic breathing exercise
Breathing exercises have been documented to decrease the body's fight-or-flight response, and help with mood stabilization, anger control, and anxiety management
Tactical Breather App
iPhone and Android devices
Used to gain control over physiological and psychological responses to stress
Through repetitive practice and training, you can learn to gain control of your heart rate, emotions, concentration, and other physiological and psychological responses to your body during stressful situations
Mindshift App
iPhone and Android devices
Designed to provide tools for managing various types of anxiety, including test anxiety, perfectionism, social anxiety, performance anxiety, worry, panic, and conflict
SAM App (Self-Help for Anxiety Management)
An iPhone and android app
Options for tracking anxiety, identifying anxiety triggers, teaching breathing and relaxation strategies, and developing an anxiety management toolkit
APPs For Depression – Free To Download
Depression CBT Self-Help Guide App
Android app
Contains a depression severity test, audios, articles, a cognitive diary, and a motivational points system that helps you learn how to do this
Cognitive Diary CBT App
Android app
Self-help methods are based on the tools of cognitive-behavioral therapy (CBT) and challenge irrational thinking
MoodGYM App
Internet-based cognitive behavioral treatment for depression developed by a psychologist
Create an account and follow the treatment plan
This is an excellent tool to use in conjunction with in-person therapy
Self-esteem Blackboard App
Android app
Developed by a clinical psychologist using the methods of cognitive-behavioral therapy to help improve self-esteem
Good for low self-esteem affecting relationships or school
APPs For Mindfulness, Relaxation, And Meditation
Headspace App
For iPhone and Androids
Meditation made relevant to modern life
Unique daily guided meditations, science facts and figures and progress reports, all designed to make it as easy as possible for you to get calm and clarity
Nature Sounds Relax and Sleep App
For androids
Choose from 6 different good quality, relaxing nature sounds-thunder, ocean, sea, birds, rain, night in the jungle, water sounds, waterfall
Start your personal audio therapy
Relax Melodies: Sleep and Yoga App
iPhone and androids
Select sounds and melodies that you like and combine them to create a mix
Calm
Free version but a more robust version for $14.99/month or $69.99/year
Calming exercises and stories narrated by celebrities
More open-minded session for people needing less guidance
Helpful breathing techniques
Real life visuals and nature sounds
Mood tracking over time
Track how many minutes each day you spend meditating
Download meditations for offline streaming
APPs For Suicide Prevention
A Friend Asks App
iPhone and android
Offers tips for getting help for a friend (or yourself)
Helpful information includes what to do right now as well as what not to do
LifeBuoy App
iPhone app
Designed specifically to assist suicide survivors after a recent attempt
Offers a daily mood diary, suggestions for decreasing social isolation, and other ways to monitor increased warning signs of suicidality
ReliefLink App
Award-winning iPhone app
Assists users with tracking daily mood/thoughts, creating a safety plan, locating the nearest hospitals, and obtaining quick access to coping methods
Virtual Hope Box App
iPhone and android
Helps with coping relaxation, distractions from overwhelming emotion, and positive thinking
Can personalize content on the app to meet your specific needs
TAKE A CRISIS SERIOUSLY!
If you or someone you care about mentions self-injury or suicide, do not keep this a secret.
Contact the National Suicide Prevention Lifeline at 988 for guidance or TEXT "Need to talk" to 741741.
If you believe a friend is in immediate danger, call 9-1-1.
Local Saginaw crisis intervention services:
(989) 792-9732
TDD/TTY (for the deaf or hearing impaired):
(989) 797-3460